Sighsteeing Tours and Excursions in and around Lyon
The City of Lyon Welcomes You !
City tour of 2 hours : THE BEST OF LYON
You stay in lyon for 4 hours, 4days, 4weeks ?
Discover the most amazing and wonderful monuments and places in Lyon in a tour.
Stop for a photo, give an idea for a restaurant, a visit or a show : We are at your disposal !
Price : 65 Euros all included (up to 4 pers.) and 75 Euros (up to 6 pers.)
AREA OF LYON - BURGUNDY - COTES DU RHONE - FRENCH ALPS
You can be in the countryside in few kilometers, and you will be amazed ! For all people who like wine but also nice land we recommend you to visit 'the Beaujolais'. If you want we can drive you to visit Pérouges, a typical medieval village where Bill Clinton went during the G7 summit 1996.
We can also drive you to Chamonix, at 2 hours of Lyon, mythical ski resort located at the botom of the highest summit of Europe : The Mont Blanc ! The lifts transport you into the very heart of the Mont-Blanc Massif. the realm of high mountains where one may contemplate and admire exceptional panoramas. And if that's not high enough for you, why not board a helicopter and fly right over those mythical summits !?
All these listed tours are advised as examples. If you wish to do any particular trip or special itinerary, please contact us and we will be happy to assist you.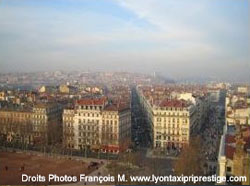 We are at your disposal to make you discover Lyon.
Two thousand years of history have left their mark on the cityscape. Lyon's rich heritage resources reflect the different eras and tell the story of the city. Lyon's listing by UNESCO as a World Heritage site gives recognition to two exceptional features: "continuity of urban development" -the listed site covers a territory of 500 hectares (1235 acres) where the entire history of the city can be seen, from the founding of the Roman city of Lugdunum. And as "an outstanding illustration of cityplanning over the centuries" in this continually populated and active territory.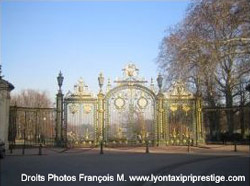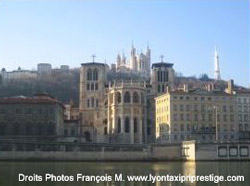 Roman Theatres, Fourvière : The two Roman theatres that stood on the Fourviere hillside, one large and one small, were built on the site were Lugdunum was founded in 43 BC. The large theatre is the oldest in France.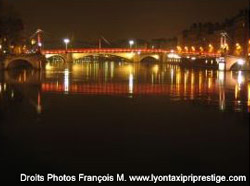 Lyon By Night : The city's appearance changes dramatically at nightfull, thanks to the illuminations. The play of light and shadow is enhanced by the play of the fountains and Lyon undergoes an astonishing metamorphosis. Every evening more than 150 sites, monuments and bridges are illuminated to create a unique spectacle.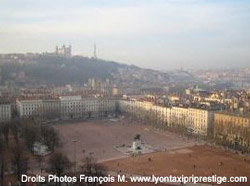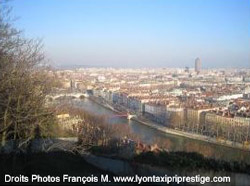 Lyon Taxi Prestige
Lyon, France
24h/24 - 7 days a week - Credit cards welcome



---
© Lyon Taxi Prestige 1998 - 2023 - All reserved reproduction rights.
The resources of this site are covered by the right of the intellectual property. • Terms of Use