Taxi Lyon Beaune in Burgundy
High-end taxi service for reasonable prices
The Hospices de Beaune wine auction 2019 : It's this weekend ! To enjoy a smooth and pleasant transfer from Lyon downtown or Lyon airport Book your transfer to Beaune now !
You will leave Lyon heading towards Paris and the North. From Lyon airport to Beaune, your transfer will take about 90 minutes to reach your destination and a little bit less when leaving from downtown Lyon or Part-Dieu train station.
South of the location you will find the Cote de Beaune and the Cote de Nuits in the north : welcome in the heart of the vineyards where some of the best wines in the world are made !
Since 2009, Beaune organizes every year the thriller film festival and also its very well known wine auction in the Hospices de Beaune every third Sunday of November. The sales are going towards the building of hospitals or elderly houses in the region. The auction is also well observed by people in the wine sector as the outcome indicates how well the high-end wine market is doing.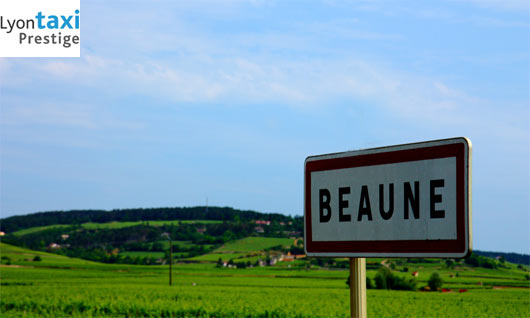 What to do :
It is possible to visit the Hospices de Beaune along with the Hotel Dieu museum. The museum is filled with objects and furniture from the middle age but is also home to the Beaune Altarpiece (often called "the last judgement") from Rogier Van der Weyden. The painting is unique and has never left the place.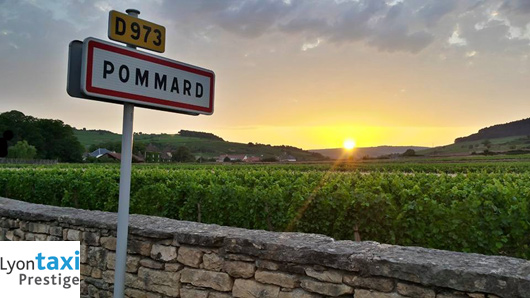 Cities nearby
Meursault, Pommard, Puligny-Montrachet, Chassagne-Montrachet, Rully, Vosne Romanéee… you may have already heard of those names by drinking the wines of the same name, you will now have the possibility to walk, bicycle or ride through those vineyards. Of course you can also visit the cellars and have a wine tasting and a conversation about the wines with the winegrowers : a truly unique moment !
Useful links
Where to sleep in Beaune ?
You will find a lot of hotels in Beaune, from companies like Ibis, Mercure to high end hotels like le Cep, l'hôtel de la Poste, Hostellerie du Cèdre or Hostellerie de Levernois
Where to eat ?
La Lune
Caveau des Arches
la dilettante
Lyon Taxi Prestige
Lyon, France
24h/24 - 7 days a week - Credit cards welcome



---
© Lyon Taxi Prestige 1998 - 2022 - All reserved reproduction rights.
The resources of this site are covered by the right of the intellectual property. • Terms of Use