Taxi from Lyon to Chalon sur Saone
Aéroport Saint Exupéry to Chalon sur Saône
Located 95 minutes away from Lyon, Chalon sur Saône is the heart of Saône et Loire region. It's in this region that photography was invented by Nicéphore-Niépce and a museum pays him tribute. It is home to million of pictures but also 1500 cameras, 5 out of which are the first one in the world.
From this city are going and arriving cruising boats heading from the Saone and cruising towards Arles, Lyon and Avignon.
The biggest boats of the fleet are the Avalon Scenery, Arosa boats, the Viking Burgundy, Viking Buri or Hermod.
C'est ici qu'a été inventé la photographie par Nicéphore-Niépce et un grand musée lui rend hommage. Il abrite des millions d'images mais aussi 1500 appareils photos dont les 5 premiers au monde.
To do :
Visiting the photography's museum
Cities nearby
eople that love good food will visit Lameloise's restaurant only located 15km away in Chagny. This restaurant is a 3 Michelin stars and welcomes all foodies passing in Burgundy since 1921..
Don't forget you're also in the heart of Burgundy and its prestigious vineyards with Beaune only 20 minutes away.
Cluny and Paray le Monial abbeys are easily reachable and if you ever decide to sail on a little barge to navigate on the canal, the city of Saint Leger sur Dune is a mandatory stop.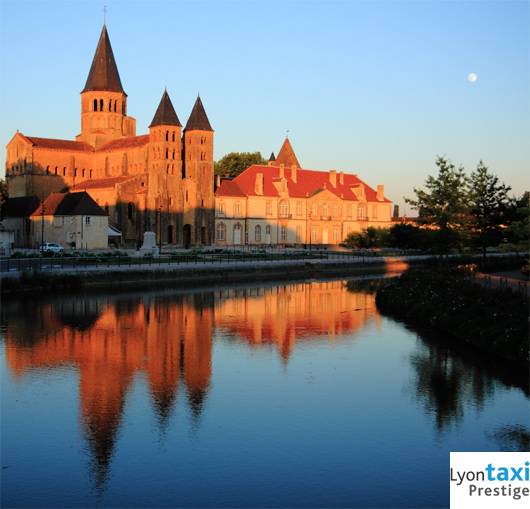 Useful links
Chalon sur Saone tourist office
Lyon Taxi Prestige
Lyon, France
24h/24 - 7 days a week - Credit cards welcome



---
© Lyon Taxi Prestige 1998 - 2021 - All reserved reproduction rights.
The resources of this site are covered by the right of the intellectual property. • Terms of Use